Ever since our family made the decision to live minimally and spend more time traveling with our children we have found that merino wool shoes are an absolute necessity!  Living a lifestyle on the go without a closet full of shoes meant that we needed to be smarter about how we outfit ourselves.  Instead of having 8 pairs of shoes for each child, we have one high-quality pair that can handle any and every weather condition or activity that we get into!  
It definitely took us some trial and error to figure out which brands and styles work best for a family on the go, so here is what we have learned after tons of research and trial and error.
One good quality pair of sneakers is all that a child really needs.  The Giesswein wool runners replace every kid's shoe except a flip flop.  My little guy wears them to play and in more formal settings because these shoes look like a hybrid sneaker/dress shoe.
Water-resistant sneakers are a lifesaver!  Kids will always find a way to get their shoes muddy or wet.  The Giesswein wool sneaker lets our children just "be kids" when the opportunity arises.  They can dance in the rain, with dry feet!  
Merino wool is the top choice of sneaker material for nomads, travelers, and busy families on the go!  It is the perfect material for all-weather climates and outdoor activities.  Our favorite children's merino wool sneaker is the Giesswein Runner!  
I frequently get compliments on these shoes.  When I tell mamas they are Giesswein merino wool sneakers, here are the top questions I usually get.
Can merino wool sneakers be worn during the hot summer months? 
Despite what many think, merino wool isn't just great for cold climates, it is the ultimate all terrain, any weather material.  Merino wool is temperature regulating and antibacterial, so merino wool sneakers not only keep your feet comfortable in all temperatures, but they do NOT stink!   Warm and toasty feet in the cold months and cool and fresh feet in the hot months!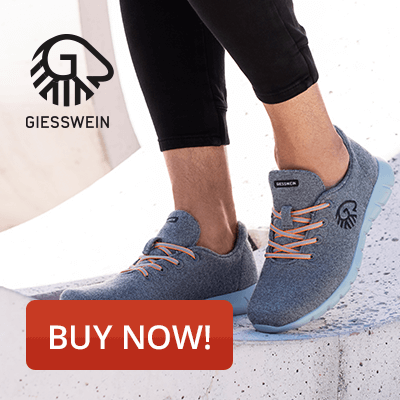 Are merino wool sneakers waterproof?
From my experience merino wool sneakers are water resistant, not completely waterproof.  While I wouldn't use them as water shoes, playing soccer in very wet grass will be fine.  Plus, merino wool sneakers wick moisture from the inside, keeping sweat and dampness away from skin.  
Can you wear merino wool sneakers without socks?
I still remember wearing wool as a child and feeling the need to itch my skin.  Merino wool is not like traditional wool, it doesn't rash your skin.  It is rather soft and durable actually.  My 5 year old loves to wear his Giesswein wool runners without socks!
Are merino wool sneakers machine washable?
Absolutely!  Being a family on the go, means that we wear our sneakers a lot and we get them dirty!  Any given week we are walking the golf course, at the park, at the zoo, playing soccer, you get the jist.  Machine washability is one of my favorite perks of merino wool shoes!  Just remove the insole, pop them in the washer on cold with any laundry detergent and set them out to air dry.  The Giesswein wool sneaker looks good as new after a wash!
The only thing that would make the Giesswein Merino Wool Sneakers better, is if they could grow with your child!  Here is the good news, these high quality sneakers hold their value, so just resell them when they no longer fit!